How I Moved Forward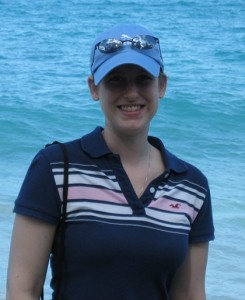 Hello! Today, I begin blogging at CancerFoward. I'm a graduate student at Rice University in Houston and a 6-year cancer survivor. Social media led me to CancerForward when cancer survivor and former Texas Representative Ellen Cohen tweeted about an award CancerForward had given her. The idea of CancerForward…an online organization supporting cancer survivors…really resonated with me. Most of my blog posts will address news and current issues regarding cancer as I see it from my perspective as a survivor.
Briefly, my experience with cancer: I discovered a lump in my right leg in the spring of my sophomore year of college. After several months of endless medical tests, many misdiagnoses and multiple trips to the emergency room, a group of doctors diagnosed me with non-Hodgkin's lymphoma. It was stage IIIB, so I received my first round of chemo immediately after my diagnosis. I spent a couple months in the hospital recovering from several related illnesses and undergoing the first several rounds of chemotherapy. In total, I received eight rounds of chemo.
Although the first couple chemo treatments made me very sick and damaged my heart, my doctors switched out one drug (because of the damage to my heart) and the final five rounds of chemo were thankfully relatively pain-free. I was able to continue taking classes during my treatment, which was a blessing since school helped me feel as though my life was still somewhat normal. Luckily, my cancer was very treatable. As of this August, I have been cancer-free for 6 years.
Moving to Houston for graduate school was exciting for me, because it provided me an opportunity to live life without cancer defining it. After several years of being relatively quiet about my cancer, I am ready to embrace my battle with cancer as a major part of my life and to reach out to other survivors. I had an amazing network of family, friends and even strangers helping me when I was sick. I am incredibly lucky to still have a wonderful network of people supporting me through life. However, being a cancer survivor (especially a young one) is at times lonely. Through CancerForward, we hope to provide a network of support for cancer survivors and provide them with important information.
Some of my blog posts will directly address my experiences with cancer and life as a cancer survivor. Other posts will focus more on providing you with helpful information. In my next blog post, I will discuss some ways to lead an active life after a cancer diagnosis. One of our goals here at CancerForward is to provide you with information, so please contact us with requests for topics you would like us to write about in the future.
I'm glad you joined me for this inaugural blog post. Speaking publicly about my experience with cancer is new to me, but I'm looking forward to sharing with you and getting to know you here at CancerForward.
Category: Cancer
Tags: cancer, cancer survivor, CancerForward, chemo, Jaci Kettler, network, non-Hodgkin's lymphoma, Social media, The Foundation For Cancer Survivors