Ten Lessons for Enriching Life Learned by a Cancer Survivor. Lesson Nine: Persevere.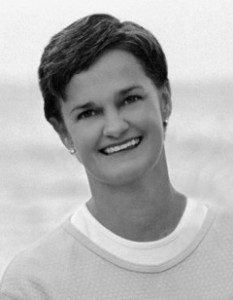 Editor's note: A Tenth Anniversary Remembrance is a CancerForward series of blog posts attributed to the late Mariana Dieste Mead, MD, who fought pancreatic cancer for four years. In their original format, the posts are excerpts of "Ten Lessons for Enriching Life Learned by Confronting Death" written by Dr. Mead in collaboration with Clare Broun Johnson. The CancerForward series appears July 29 through August 9, 2012.

by Mariana Dieste Mead, MD (1955 – 2002)
Do you remember how awkward it felt to first hold a lacrosse stick in your hand…how hard it was to not make Varsity…not getting cast for the part in "The Lion King"…to admit you deserved that C?
You have to start somewhere and then do your best. There is no higher standard in my mind than, "I did the best I could." Believe in yourself. But, more importantly, never, never, never give up! Don't be afraid to try something new just because you may not be perfect at it.
You must remember that setbacks will happen to anyone willing to fully experience life. Don't let fear of failure hinder you, even paralyze you from trying again, and again and again. Success requires the courage to move forward, regardless of the outcome. So be willing to fail.
This lesson has personally been the hardest lesson of all for me. I've set my sights on feeling well and living to see my daughters grow up. This doesn't mean that I'm not scared. I cannot begin to tell you how full of fear I am: fear of the unknown, fear of pain, fear of losing control.
Courage for me is walking through these fears with faith. Faith in doing my best while accepting that the final outcome may or may not be within my control. You know what? We must surrender to the fact that life is not fair. Barb Liston calls this …"movin'ahead with a monkey on yer back."
There will be obstacles for you and for me. But setbacks and challenges polish our souls and inevitably make us stronger, wiser, better people if we persist, if we persevere.
Editor's Note: Lesson Ten: SEIZE THE DAY will appear in the next installment of CancerForward's blog, to be published August 8, 2012.
Category: Cancer
Tags: cancer, cancer survivor, CancerForward, courage, faith, fear, lesson nine, Mariana Dieste Mead MD, obstacles, persevere, persist, success, The Foundation For Cancer Survivors