Awaiting Me After Cancer: The STAR Program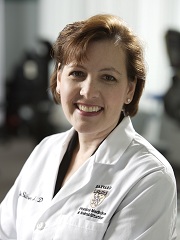 Editor's Note: To mark National Breast Cancer Awareness Month 2012, CancerForward asked Julie Silver, MD, to share her story of breast cancer survivorship from her perspective as a doctor. Dr. Silver is an assistant professor at Harvard Medical School in the Department of Physical Medicine and Rehabilitation and the co-founder of Oncology Rehab Partners, LLC. Her latest book for cancer survivors is Chicken Soup for the Soul: Hope & Healing for Your Breast Cancer Journey, of which CancerForward volunteer founder Beth Sanders Moore is a contributing writer. Julie and Beth have been friends and colleagues for many years—both diagnosed with breast cancer as young women—and they are working hand-in-hand to ensure that all cancer survivors are offered the best possible care, including rehabilitation.
Not quite a decade ago, I was diagnosed with breast cancer. Although Martina McBride's song "I'm Gonna Love You Through It" was not written about me, the lyrics are hauntingly familiar. I was 38-years old with three small kids and an incredibly loving husband.
There is no easy cancer diagnosis, and the treatment can be downright brutal. When I finished chemotherapy I was a shell of my former self. I had more problems than I can list here and more pain than I care to remember. Determined to get my life back, I healed myself. There was no other option. At that time "cancer rehabilitation" wasn't something that anyone talked about much, and there was no formal program to help survivors heal in Massachusetts.
I am a rehabilitation doctor, and when I was strong enough to return to work, I began to not only see patients but also to write and speak about cancer rehabilitation. The more I explained just how powerful evidence-based cancer rehabilitation care is and how it's covered by health insurers, the more questions both survivors and healthcare providers had. What do you mean by rehab? Who is qualified to treat cancer survivors for their rehabilitation needs? How should these services be appropriately coded, documented and billed for third party payor reimbursement? Why aren't there cancer rehab programs at every cancer center? Why didn't my oncologist refer me for rehab? The questions kept coming.
I soon realized that in order to change the status quo of sending patients home without formal rehabilitation by board certified doctors in Physical Medicine and Rehabilitation (PM&R) and licensed allied healthcare professionals in rehabilitation medicine including physical, occupational and speech therapists, there needed to be some major changes in the way cancer care is delivered.
I teamed up with a colleague and developed the STAR Program® Survivorship Training and Rehabilitation. The STAR Program has quickly become known as the first and only best practices cancer rehabilitation model available for hospitals, cancer centers and oncology group practices. There are STAR Program certified facilities in most states in the U.S. and we've launched two statewide initiatives — in Rhode Island and Massachusetts — in collaboration with regional foundations. The Massachusetts statewide initiative was announced in July 2012 and supported by The Friends of Mel Foundation.
The goal of the statewide initiatives was to make STAR Programs available geographically to every survivor in the state. This model has worked extremely well to bring excellent cancer rehabilitation services to survivors in record time. We are actively seeking the support of other foundations, so that survivors in all 50 states will have geographic access to STAR Programs.
To give you an idea of just how exciting and successful the STAR Program is, I was selected by The Boston Globe as a "Top Innovator in Medicine 2012" and my business partner, Diane Stokes, MBA, and I were named to Bloomberg/Businessweek's list of "America's Most Promising Social Entrepreneurs 2012."
Many survivors say to me, "I didn't get cancer rehabilitation because I didn't ask for it." My response is that they shouldn't have to ask for it. Cancer survivors should not have to ask for surgery, chemotherapy, radiation therapy, rehabilitation or any other evidence-based oncology treatments. They should be advised by their doctors and other healthcare professionals about their treatment options including the benefits and risks of recommended therapies. Cancer rehabilitation has been extensively studied, and we know for sure that it helps survivors to heal faster, better and stronger—regardless of what type of cancer or the stage or the treatment.
If you are a survivor who is struggling with any side effects or aftereffects of cancer treatment, ask your doctor to refer you to a STAR Program. Right now cancer rehabilitation is still emerging as the standard of care, and survivors must still advocate for themselves, so they don't end up with a suboptimal recovery and decreased quality of life. So, even though you shouldn't have to ask for this type of medical care, please do. It will not only help you but also other survivors who may not know to ask. The more survivors insist on having the best possible care, the faster the healthcare system will change and the advice to "accept a new normal" will become a historical footnote.
Category: Cancer
Tags: America's Most Promising Social Entrepreneurs 2012, Beth Sanders Moore, Bloomberg/Businessweek, breast cancer, cancer rehab, cancer rehabilitation, cancer survivors, CancerForward, Chicken Soup for the Soul: Hope & Healing for Your Breast Cancer Journey, Harvard Medical School, health insurers, Julie Silver MD, National Breast Cancer Awareness Month, Oncology Rehab Partners LLC, Physical Medicine and Rehabilitation, STAR Program® Survivorship Training and Rehabilitation, The Foundation For Cancer Survivors, third party payor reimbursement