The First Mobile Clinic to Serve Cancer Survivors
by Owen Carson
CancerForward was on hand earlier this year at the debut of a custom-built $1 million big rig that's a first-of-its-kind mobile cancer survivor clinic. Mid-February, UT Southwestern Medical Center's Moncrief Cancer Institute and Harold C. Simmons Comprehensive Cancer Center unveiled an 18-wheeler equipped with a 3-D digital mammography suite and two exam rooms with secure telemedicine links to give survivors free access to essential follow-up care.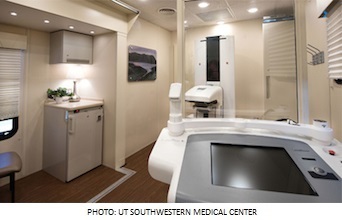 While most mobile cancer clinics are focused on prevention, the Mobile Cancer Survivor Clinic will help survivors recover and prevent recurrence. A physician assistant, nurse, social worker, exercise specialist, and dietitian will travel with the truck. Both the exercise specialist and dietitian will give free one-on-one consultations and prescribe diet and exercise plans specific to each survivor's needs.
The traveling clinic will first serve nine rural North Texas counties, where 15,000 underserved and under-insured cancer survivors live.
More people are surviving cancer than ever before, increasing the need for follow-up care. According to the National Cancer Institute, cancer survivors will account for more than 5 percent of the U.S. population by the year 2022. That's roughly 18 million people.
"Many survivors face a range of ongoing medical and mental challenges, including anxiety, pain, and poor nutrition. The Mobile Cancer Survivor Clinic will aim to address all of those needs through personal appointments and seminars, said Beth Sanders Moore, CancerForward's founder and chair. Moore is a longtime advocate of expanding survivorship education and services as a means preventing second cancers and recurrence of cancer.
The Mobile Cancer Survivor Clinic is funded by a federal grant, and is considered a first of its kind because it is not designated for pre-cancer screening, but rather follow-up care. It will hit the road this month.
Category: Cancer
Tags: 3-D digital mammography suite, assistant, Beth Sanders Moore, CancerForward, dietitian, exercise specialist, Harold C. Simmons Comprehensive Cancer Center, mobile cancer survivor clinic, Moncrief Cancer Institute, National Cancer Institute, nurse, Owen Carson, physician, recurrence, social worker, telemedicine, UT Southwestern Medical Center