When A Woman Afflicted With Cancer and A Woman Afflicted With Heart Disease Are One
by Rebecca Trahan
"You have cancer."
"You're having a heart attack."
Hearing either of these statements is unimaginable to most.
What could be worse? Hearing both statements could be far more traumatic. And more troubling still can be hearing that the treatment you received to arrest your cancer has caused your heart to fail.
Talk about a double dose of dread: surviving cancer only to be diagnosed with heart disease. Dreadful, and yet it happens more often than we realize.
In 1998, I had my own private battle with melanoma. Then, only three and a half years ago, I suffered a spontaneous coronary artery dissection (SCAD) that resulted in an emergent triple bypass. I had just celebrated my 49th birthday, was an avid long distance runner, and now shockingly diagnosed with coronary artery disease.
Having learned the dreaded cancer diagnosis earlier in my life, I knew that in order to survive my cardiac diagnosis emotionally I would need to rely on the wisdom and experiences of other women who had survived a diagnosis of heart disease. I had witnessed the amazing success of the many support groups for breast cancer survivors and just assumed that since heart disease was the number one killer of women, there would be the like for heart disease patients. Surprisingly, there wasn't. So in 2012, my dear "co-heart" survivor and fellow patient, Lisa Hulick, and I founded a support group for women in the Houston area living with and at risk for cardiovascular disease, something that was missing from Houston's amazing medical landscape. We did this with the assistance from the national organization, WomenHeart and the Texas Heart Institute.
During this time, I have met several women with heart disease resulting from cancer treatment; chemotherapy, radiation or a combination thereof. To survive one deadly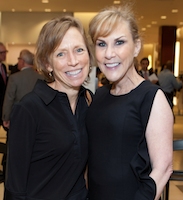 disease only to be diagnosed with another years later as a result of the treatment for the former sounds insurmountable, but the human spirit of one such woman comes to mind: Terri Dome. Terri survived non-hodgkin lymphoma as a teen-ager. After a year and a half of chemotherapy and radiation, her disease was in remission. Fifteen years later, however she learned that her treatment had damaged her heart and lungs and she went through years of pacemakers and a litany of cardiac procedures before eventually having a heart transplant.
It's not commonly known that some of the leading drug therapies for women with breast cancer can be cardio-toxic. The sad irony is that being cured of cancer can and often does give women heart disease.
Dr. Javid Moslehi, a cardiologist who leads a program in cardio-oncology at the Vanderbilt University School of Medicine in Nashville, TN., claims years ago, heart complications from cancer treatment didn't garner much attention. "In the past, people were just glad to be alive," he said.
Fortunately, researchers in the field are aware of the problem and have been tackling it head on. Dr. Edward Yeh is a researcher at the Texas Heart Institute and the chairman of the cardiology program at M.D. Anderson Cancer Center. He and his team discovered the molecular basis for how one of the most commonly used cancer drugs causes heart failure in cancer patients. This could lead the way to preventing these terrible side-effects and to potential new non cardio-toxic cancer therapy drugs.
"This is, obviously, a significant finding and one that holds potential to develop a blood test to predict patient's sensitivity to this drug to completely eliminate this dreaded side-effect," said Dr. Yeh.
With so many survivors of cancer, I believe there is a clear and growing need to understand how we can avoid toxic effects of treatments. I am encouraged to learn about the new research efforts. Mourning the passing of our dear friend Terri, my co-heart and I are more than ever committed to educating others that a woman afflicted with cancer and woman afflicted with heart disease may, in fact, be one in the same.
Category: Cancer
Tags: cancer, cancer survivor, CancerForward, cardio-toxic, cardiovascular disease, chemotherapy, Dr. Edward Yeh, Dr. Javid Moslehi, heart attack, heart transplant, Lisa Hulick, M.D. Anderson Cancer Center, melanoma, non-hodgkin lymphoma, radiation, Rebecca Trahan, SCAD, spontaneous coronary artery dissection, Terri Dome, Texas Heart Institute, triple bypass, WomenHeart